---
We want Lakeview Springs to be a place that the whole family can enjoy; a place where memories are made. So plan on joining us for some of our upcoming events and making some lasting memories of your own!
---
.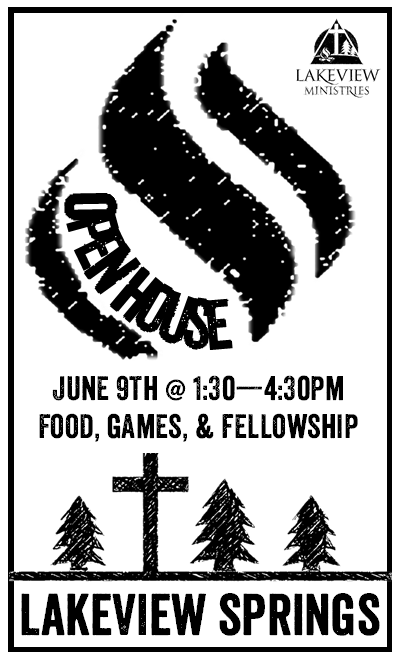 JUNE 9, 1:30-4:30 pm – Open House and Field Day
Help us kick off the summer! We'll have bounce houses for the kids (and the young at heart), delicious snacks, and some friendly competition to enjoy as a family. Enjoy a wonderful afternoon together at Lakeview Springs!
---
Past Events:
2019
MAY 19, 6:00 pm – Name Change Ceremony
As part of the master plan for Camp Cedarbrook, we will be rebranding the site Lakeview Springs, after the fresh springs that bring life to the camp. This is not a decision we made lightly-we recognize the tremendous history and impact the name Camp Cedarbrook has had over the years. We plan to honor the Camp Cedarbrook name in a Name Change Ceremony, Sunday, May 19th at 6pm at Camp Cedarbrook/Lakeview Springs. Please join us as we celebrate the blessing this name has had for so many over the years.
MAY 5, 2:30-4:30 pm – Nature Day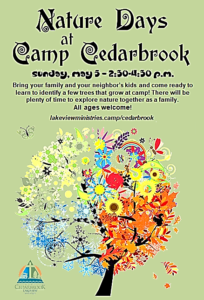 Bring your family and the neighborhood kids and come ready to learn to identify different trees that grow at camp. There will be plenty of time to explore nature together as a family. All ages welcome!
MAR 2, 10:00 am to 6:00 pm – Lake Farewell Open House
Join us any time during the day to say "Goodbye!" to the lake at Cedarbrook. After extensive evaluations from the engineering community it was determined that repairing the dam was not feasible. As a result, the lake will need to be drained. So we're hosting an open house to allow people to come and see the lake one more time! We'll have inflatables set up for the kids (and the young at heart!), delicious refreshments, and staff available to give tours of the property and answer questions.
And while having to drain the lake is sad, get excited for the construction of a new water feature that will include a system of natural swimming pools connected by a winding stream and continually fed by the springs on the property! You can read more about this whole process HERE.
2018
NOV 11th, 4pm – Campfire Devotions
Join us for a time of worship and reflection as we gather around the fire and raise our voices in praise and thanksgiving. There is no cost to attend this event.
DEC 8th, 4pm – Christmas at Cedarbrook
This is a tradition stretching back through the decades. Join us for an advent celebration including chili, hot dogs, hot chocolate, cookie decorating, tree decorating, Christmas carols, campfire, inflatables, and more! There is no cost to attend this event.